Mandarin Chinese Language Immersion Magnet School
HOUSTON DUAL LANGUAGE SCHOOLS & ASIA SOCIETY
by Bernadette Verzosa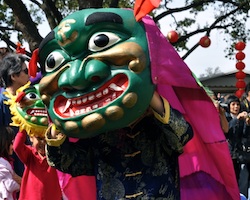 Editor's Note: MCLIMS is hosting its 3rd Annual Chinese New Year Festival on Saturday, February 28, 2015, 10 a.m. – 3 p.m. The school is located at 6300 Avenue B in Bellaire. This is a status update on how the nationally recognized immersion curriculum is working here in Houston. HISD opened the specialized school in August 2012.
On a rainy winter evening, the end of a bustling school day, some parents gathered at Kim Harrington's cozy cottage in West University Place. They were members of the Parent Teacher Organization (PTO) at the Mandarin Chinese Language Immersion Magnet School (MCLIMS).
Although the dual language school is only in its second year of operation, it has already garnered a respectable reputation for its strong PTO. And Harrington was coordinating the school's Chinese New Year Festival. "Here's an example of how involved the parents are: we have 333 students, and 230 parents signed up to volunteer for the festival," she says. "The parents contribute a lot. The teachers get help everyday with setting up materials for the classroom, so the teachers can devote more time to the students."
Harrington's 6-year-old daughter Faye is in kindergarten. "She loves it. She is very excited to know another language. It's sort of a secret language for her and her friends. They speak Chinese when they don't want their parents to understand what they're saying," says Harrington.
Another mom, Caroline Long, has two daughters at the school – Victoria in first grade and Katia in Pre-K. "Our kids were starting to resist speaking a second language but now they love learning in Chinese and think it's really cool. One of our favorite aspects of MCLIMS is the diversity of the student body," says Long.
PRINCIPAL CHANG & HOUSTON ISD
The parents work closely with MCLIMS Principal ChaoLin Chang, a native Mandarin Chinese speaker, who previously worked at an Austin school named a 2012 National Blue Ribbon School by the U.S. Department of Education. "We have an open-door policy so that teachers, staff, students and parents are welcome to express their concerns and provide suggestions," he says. "My vision is to immerse students in a culture-rich environment that allows them to become balanced bi-cultural and bi-literate citizens for the global economy."
Students at MCLIMS spend half the day with a bilingual and certified Chinese-speaking teacher, and half the day learning in English from an English-speaking teacher.
The Houston Independent School District (HISD) opened the elementary school in Bellaire in August 2012. Plans are underway for MCLIMS to expand to middle school (K-8) and move to a new multi-million dollar building.
Many educators around the country applaud HISD's decisions surrounding the launch. "Houston did it right. Of any Mandarin Immersion school started in the last decade, this school is set up for success. They started with the whole school so you have a culture where speaking a second language is the norm, and not just for weirdos. They followed a proven model's curriculum instead of trying to launch from zero. And they had the full support of the district rather than grudging acceptance," says Elizabeth Weise, author of the book "A Parent's Guide to Mandarin Immersion," which is scheduled for release in March 2014.
Weise also started the San Francisco-based Mandarin Immersion Parents Council (MIPC). The group has counted about 150 public, private and charter Mandarin Immersion schools around the United States. Two other schools in Texas are on its registry: Stafford Elementary School in Stafford and Doss Elementary School in Austin. Both have strand programs which means they offer families at least one Mandarin immersion classroom along with regular all-English classrooms.
CLICK HERE for more information on the MANDARIN IMMERSION PARENTS COUNCIL
ASIA SOCIETY'S IMMERSION HANDBOOK & CONFUCIUS CLASSROOMS
Weise is on the advisory committee of the Asia Society's Chinese Early Language and Immersion Network (CELIN), which had its inaugural meeting in New York City just last month, January 2014.
Asia Society created the group in response to the increasing interest and growth of Mandarin Immersion programs across the country. It also released a guide called "Chinese Language Learning in the Early Grades: A Handbook of Resources and Best Practices for Mandarin Immersion."
In an interview with ParentsPost, Jeff Wang, Director of Education and Chinese Language Initiatives, says some of the advocacy for dual language programs has come from parents with adopted children from China. The adoptee families want their kids to grow up with connection to their heritage.
But much of the movement's momentum is spurred by the recognition of China's rise as a global economic superpower. "We are concerned that unlike the rest of the world, Americans are learning a foreign language too late and too casually. Our objective is to increase the number of American students learning a foreign language in the early grades. We also want to increase the quality of proficiency in the foreign language, in this case in Mandarin Chinese," says Wang. "This work will broadly enhance children's global competence so they can act and live more productively and fully in the 21st century."
The Asia Society also formed a network for Chinese language programs called Confucius Classrooms. The member schools in the Houston area include Kolter Elementary, Houston Academy for International Studies, Sharpstown International School and YES Prep Brays Oaks.