About Toto, Dorothy's Dog, Wizard of Oz Fun Facts
Theatre Under The Stars presents The Wizard of Oz
Hobby Center, Sarofim Hall, March 4 – 16, 713-558-8887
CLICK HERE for a review of the family musical THE WIZARD OF OZ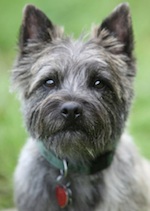 Editor's Note: We were amazed with Toto, the furry friend on stage for much of the two-hour show. Toto was cool and composed amid all the lights and spectacle. The following fun facts were provided by Sam Byrd, Theatre Under The Stars Public Relations Manager.
TOTO'S REAL NAME: Nigel
AGE: 6
HOME: Northeast Arkansas, where he was rescued from the local humane society.
BREED: Cairn terrier, the same breed as the original Toto (whose name was Terry) from the 1939 film.
OFFSTAGE HOBBIES: Chasing tennis balls and sleeping.
PRE-SHOW RITUAL: Saying hello to everyone in the cast and warming up with Dorothy.
STAGE DEBUT: Appeared in the NYC production of The Wiz opposite R&B singer Ashanti, who played Dorothy.
UNDERSTUDY: Loki, who was rescued from the puppy mills of Missouri. The two dogs are good friends.
BACKSTAGE TIDBITS: An animal handler travels with the tour full-time. His job is to take care of Nigel and his understudy Loki. They have their own dressing room in every city.
BIGGEST SHOW MOMENT: He has too many to pick just one! He sits on a hay bale while Dorothy sings "Over the Rainbow." He saves the day when Dorothy is stuck in the Witch's castle by leading the three friends to her. And he gets the final curtain call moment and the biggest applause!
OWNER & TRAINER: The dogs are owned and trained by Tony-Award winner William "Bill" Berloni, known for the musical Annie.